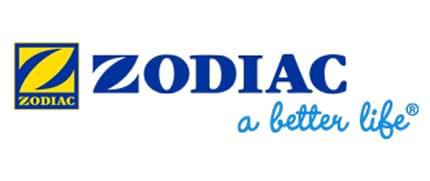 The T5 Duo is a suction side in-ground pool cleaner that provides maximum durability and cleaning power.
The T5 Duo takes advantage of its Dura Life Diaphragm with one moving part to ensure that it is a long lasting and easy to maintain cleaner. The Dura Life Diaphragm allows for maximum durability with the added benefit of a silent operation. The Duo Disc System will produce a closer clean because of the two independent discs that enhance coverage, create greater pool adhesion, and flexibility. The fins will glide smoothly while cleaning over lights, main drains, and wall fittings that may hang up other cleaners. The T5's adjustable wheel deflector creates strong navigation around corners, steps, ladders, lights, main drains, and all other wall fittings. The T5 is for use with Low Flow Pumps and includes unique twist lock hosing for simple connection. The T5 Duo can be used on all pool surfaces, and has 39 feet of twist lock hose (12 sections, 1 meter long).
Features
Dura Life Diaphragm optimizes durability and allows for a silent operation.
Twist-locking Hose connects simply and easily to reduce vacuum loss.
Adjustable Wheel Deflector adjusts creates a smooth and fluid navigation around corners, steps and ladders.
Quick Connector allows for a quick secure attachment to cleaner head.
Duo Disc System provides optimal cleaning coverage, and its fins create a smooth cleaning over lights, jets, main drains, etc.
Technical Details
Premium suction-side cleaner with Dura-life Diaphragm Technology
Works in all in-ground pools
Connects directly to skimmer or dedicated 1.5″ vacuum line
Includes 36 ft. of feed hose
Now Includes Free Cyclonic Leaf Catcher!
The T5 Duo will traps leaves and make it hassle free. Conveniently traps the leaves and other debris before it can get into the skimmer, pump, or filter.
Advanced Cyclonic Technology – Creates a unique water flow to keep debris from clogging the canister and stopping suction.
Compatible with Most Suction Pool Cleaners – Works with turbine-driven or disc-style models. Adapters included for universal hose connections.
Features:
Easy Release Twist Lock Top
Large Debris Canister
Easy Connection Fittings
Easy Clean Squeegee Basket
Ergonomic Handle
Automatic Drain Valve
2 Year Manufacture Warranty